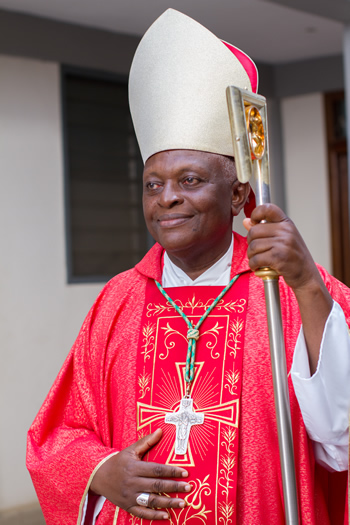 BISHOP OF THE CATHOLIC DIOCESE OF KOFORIDUA.

Surname: AFRIFAH-AGYEKUM
Name: Joseph Kwaku
Date of Birth: December 22
Place of Birth: Akim Swedru, Eastern Region of Ghana
Father: Henry K. OKRAH (deceased)
Mother: Gladys Y. OKRAH (nee HENEWA)

Date of Priestly Ordination: July 17, 1983
Place of Priestly Ordination: Holy Spirit Cathedral, Accra
Ordaining Bishop: Most Rev. Dominic K. ANDOH, then Bishop of the Catholic Diocese of Accra, now Metropolitan See of Accra (since November 1992)

Priestly Appointments: 1983-1985: Curate at the Holy Spirit Cathedral, Accra: 1985-1986: Priest in-charge of St. Peter's Parish, Osu-Accra : 1986-1992: Post-graduate studies at Rome's Anselmianum, where in 1992, he obtained his PhD Sacred Liturgy : 1992-1993: Priest in-charge of St. George's Parish, Koforid : 1993-1997: Cathedral Administrator of St.George's Catholic Cathedral, Koforidua : 1997-2001: Director of Diocesan Pastoral Centre and Activities : 1993 to May 30, 2005: Vicar General of the Diocese of Koforidua with additional duties as Diocesan Lands and Estate Coordinator and Chairman of the Management Board of the Catholic Educational Unit of the Catholic Diocese of Koforidua. May 2005-April 2006: Diocesan Administrator of Catholic Diocese of Koforidua. April 12, 2006 -: Catholic Bishop of Koforidua.Episcopal Ordination: July 1, 2006. CURRENT POSITION AT THE BISHOPS' CONFERENCE: Episcopal Chairman for Health.