A PRIESTHOOD OF PRAYER AND SERVICE, NOT AFFLUENCE OR POWER – BISHOP AFRIFAH-AGYEKUM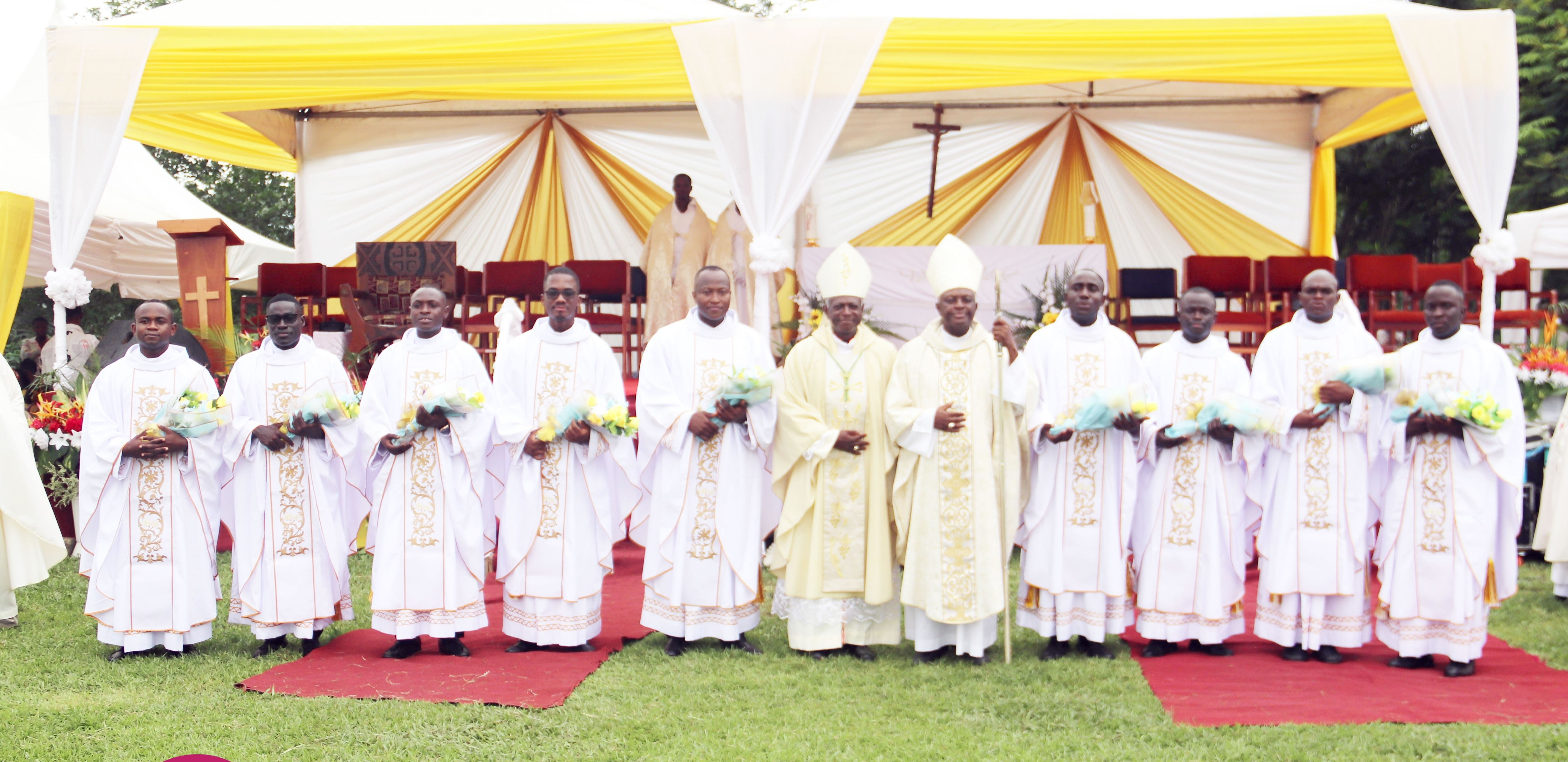 On Saturday, 12th August 2023, Most Rev. Joseph Afrifah-Agyekum, the Catholic Bishop of Koforidua, presided at Holy Mass during which he ordained on nine (9) Deacons as Priests for the Diocese of Koforidua. Concelebrating with the Prelate were Most Rev. Anthony Narh Asare (Auxiliary Bishop of Accra Archdiocese), the Vicar General, Monsignori, as well as scores of Priests across the length and breadth of the Diocese and beyond. This colourful and solemn celebration, which was hosted by the Koforidua Deanery, took place at the Madonna School. Also in attendance were Catholic faithfuls, family relatives, benefactors and benefactresses, friends and loved ones of the Ordianadi, Religious Brothers, Sisters and Seminarians. It is of interest to note that in the history of the Diocese, the day's event was a very historic one, because the nine deacons who were ordained into the priesthood, was the second highest when after twenty-two years, ten deacons were also ordained as priests in 2001 at a similar occasion by the then Bishop of Koforidua, Most Rev. Charles Gabriel Palmer-Buckle (now the Metropolitan Archbishop of Cape Coast).

In a brief homily delivered by the Bishop, he expressed his gratitude to the Parents of the Ordinandi for offering their sons to be ordained for Mother Church, saying, "Today, these our sons are the center of attention of the People of God, symbolically represented by the families and parish communities which they come from. They fill here with their prayers and singing, with their sincere and deep affection, their authentic emotion, their human and spiritual joy."
Reflecting on the chosen Readings, the Chief-Shepherd of Koforidua Diocese addressed those he ordained to be mindful of the fact that "many today have accepted the call to the Priesthood but are not doing the work of the Priest."He exhorted them to exercise their sacred duty of teaching, sanctifying, pastoring in the name of Christ, in humility and obedience; imparting to everyone the Word of God which they have received with joy, meditating in prayer and contemplation and to believe what they teach and practice, adding that they must celebrate the Mass and other Sacraments in faith and reverence. He also entreated the faithful to pray for them and compliment them with good counsel.