Trust in God's Guidance in Governance! - Bishop Afrifah-Agyekum urges the President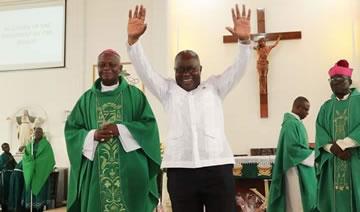 The President of the Republic of Ghana, Nana Addo Dankwah Akuffo-Addo and his entourage attended Mass in Koforidua on October 13, 2019. On arrival, he received a rousing welcome from Parishioners and party faithful before joining the parishioners of the St. George Catholic Cathedral Church for Mass.

In his homily, Most Rev. Joseph Afrifah-Agyekum, the Catholic Bishop of Koforidua,  entreated Nana Akufo-Addo and his ministers to continue to seek and trust God's guidance in governance.

The Prelate of Koforidua Diocese again mentioned that the President after assumption into power demonstrated his trust in God by organizing the National Thanksgiving Service and urged him to continue in that path." He reminded the President "a few years back when you were seeking the mandate of Ghanaians to vote for you,you always attributed your efforts as ' the battle is the Lord's'"  He reiterated,  "very often we as human beings forget about the people we rely on and also  forget that it was God's assistance we sought."